International Quilt Festival - 2015
I just returned from my annual trip to the International Quilt Festival in Houston Texas. In high school I became a seamstress, then in 1980, while living in Texas, I learned how to make quilts. By 1990 I was starting to dye and design fabric and loved mixing dyes and painting them on silk. Watercolor painting became a natural extension after I retired. But I only acquire new interests and don't easily give up the old ones. This was my 30th annual visit to Quilt Festival where I look at 100s of quilts, take classes, and replenish supplies.
The Houston Convention Center is huge - think multiple football fields, and is now undergoing more building and renovation. All 3 floors are devoted to this event and the last attendance record I heard, which was several years ago, was 55,000 attendees.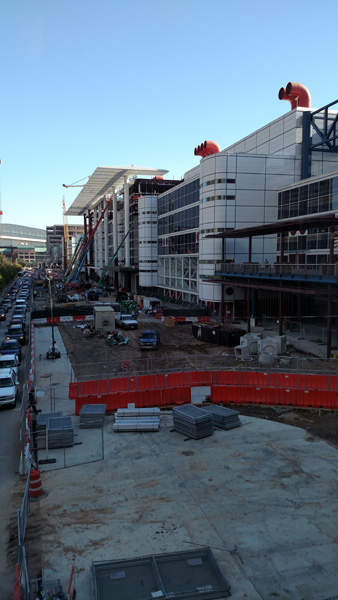 I painted once each full day I was there, and here are my sketchbook pages. Jane Dunnewold's class was about working in a series, and we had many exercises to do during our 3 hours of discussion. In one of the final exercises we had to quickly write down lists of words that we associated with colors. Of greatest interest were the half of the class that hate purple and had lots of bad associations with it.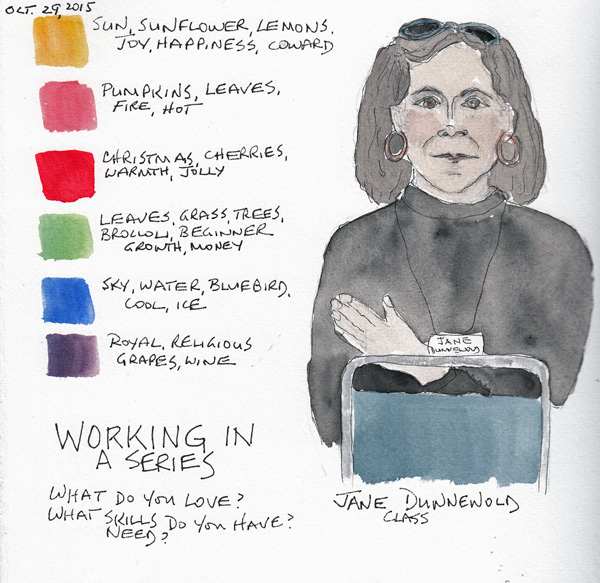 My next class required 3 hours of sewing and I didn't paint during the session. But I did draw one of my favorite dolls from the Hoffman Challenge Doll Exhibit as I walked through the exhibit areas.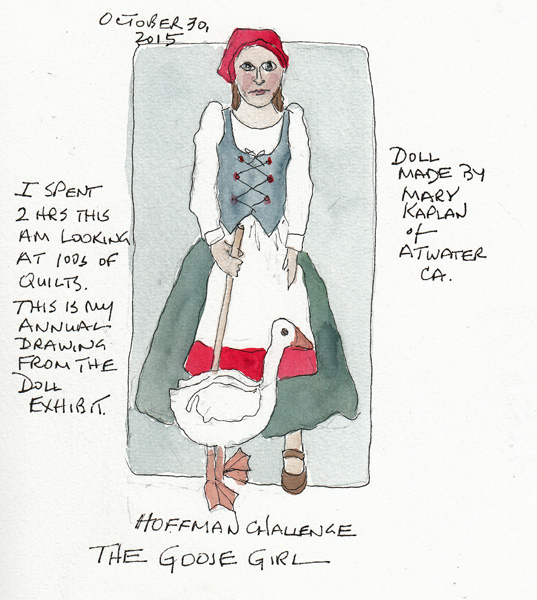 My third day and class was with Judy Coates Perez and we dyed and painted fabric using Acrylic Inks. Wow! the textures created were gorgeous, and were very different than those achieved with dyes. But they also are not completely water resistant, making them better for art quilts that will never be washed.