FDA Approves Moderna 3rd Vaccine Dose for 3 Groups
On Thursday the FDA VRBPAC Advisory Committee met to review a request from Moderna for an EUA for a 3rd dose of the Moderna vaccine. Moderna tested a 50 ug dose instead of 100ug which is used for the 2 dose vaccination. There were scientific presentations most of the day, including one by the Moderna scientists, and one in which all of the data submitted by Moderna was reviewed by FDA scientists. When the delta variant became the dominant and then the sole variant for SARS-CoV-2, the efficacy of the vaccines had to be reassessed - including the potential need for booster doses for fully vaccinated individuals.
Moderna was requesting approval for 3rd doses at least 6 months after their 2nd dose: for 1. Individuals 65 years of age and older, 2. Individuals 18-64 years of age at high risk of severe Covid-19 and 3. individuals whose frequent institutional or occupational exposure to SARS-CoV-2 puts them at higher risk of serious complications of Covid-19 including severe Covid-19. Data had to be presented that the 50 ug dose was as immunogenic and met the criteria for antibody production and safety, and much of the information presented was confirmation of both. The 3rd dose in individuals who received the two dose vaccination schedule 4 weeks apart did not have any more symptoms than after they had received the 2nd dose - and no new safety signals were seen. The advisory committee unanimously approved Moderna's application and now the CDC ACIP advisory committee will meet next week for additional scientific reviews and then vote on the EUA for a 3rd dose of Moderna for the outlined groups. See Below: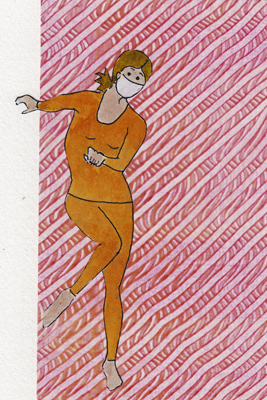 The Moderna and Pfizer vaccines are still both very effective in younger groups, but there was concern that the 65+ aged adults were starting to show waning immunity against the delta variant. They presented some data that convinced me that we older adults should receive a 3rd dose. Moderna was able to study 2 groups of patients from their original 30,000 plus Clinical Trial - the group that initially received the vaccine (early group - median time since vaccination 13 months) and the people who were in the placebo group, but after approval of the vaccine in Dec. 2020 were vaccinated (late group - median time since vaccination 7.9mos). There were significantly more breakthrough cases after the delta variant spread in the "early" group, than in the "later" group, including some severe cases. This is real world evidence that the vaccine is still efficacious against the variants, but not as good in older adults who have a lower immune response than those less than 65 years. Some virologists think it may be a "3 dose vaccine" in order to have long lasting immunity, but only time will tell.