One Watercolor a Day - 3 Exercises
I am still periodically doing an exercise from this book, and here are three recent pages. I'm painting in a Strathmore 9 X 12 watercolor (140lb) Visual Journal - and using my usual Winsor-Newton watercolor palette. The paintings are too big for my scanner, so I'm photographing them and then trying to lighten the blue-tinged background page in Photoshop.
Exercise 7: I painted the shapes of peppers and then actually drew their shapes on the top half of the page. And then I sketched the red and orange peppers on the bottom half of the page - trying not to just color them in like a coloring book. The yellow pepper at the bottom was another one that I painted first and then added ink because it was fun!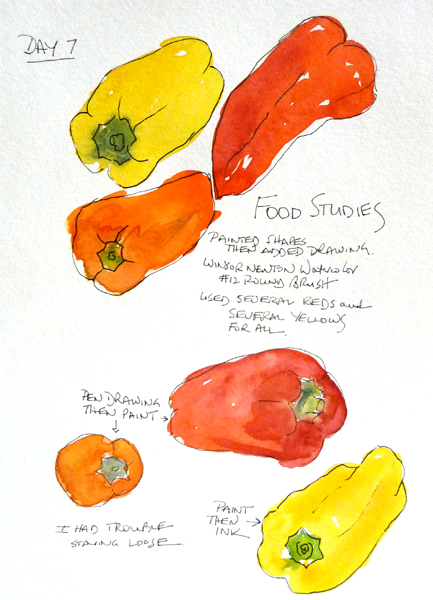 Exercise 8: Paint a plant paying attention to all of the different colors in the leaves. This is one of my house plants - the one with the most color variation.
Exercise 9: Draw a bird - which was hard for me unless I wanted to freeze in Central Park as I waited for some of their regulars to appear. However, I took many photos of geese at the Stone Barn Center for Food and Agriculture last Fall. I was able to combine photos and paint 3 Toulouse geese for this exercise. My friend Teri knows that I am doing these exercises in an attempt to loosen up my painting - and when she saw this page - and their sample in the book - she just laughed! Apparently I'm not loose yet!