Transfer Artist Paper (TAP) - on Paper and Fabric
Last Week I was at the International Quilt Festival in Houston - an annual trek I began in 1983. It was so small then that it was held in the now destroyed Shamrock Hilton Hotel. I watched it grow until now it takes up 3 floors of the HUGE George Brown Convention Center. Tuesday I was preoccupied by the election and yesterday I was in shock and unable to think clearly. So my first blog post of the week is several days overdue.
I took a 3 hour workshop on the use of TAP and wanted to share what I learned. Here is my testing of the transfer of images and brushstrokes from TAP to watercolor paper.
The tulips were a transfer of black and white Clip Art that was printed onto TAP with an ink jet printer and then transferred to my sketchbook. Since the image is a polymer, I painted it with watercolors to see if the image could be painted. It could, I then painted a snippet of the TAP with watercolor and transferred it to the page as dirt under the flower stems. We were told that you can draw-paint-color on the TAP as long as you don't scratch the surface. The wide black line was a Pigma brush pen line I transferred from a snippet of TAP, and the single tulip on the right was an image drawn on another snippet of TAP with Tombow brush markers and transferred.
I then transferred clip art images to fabric.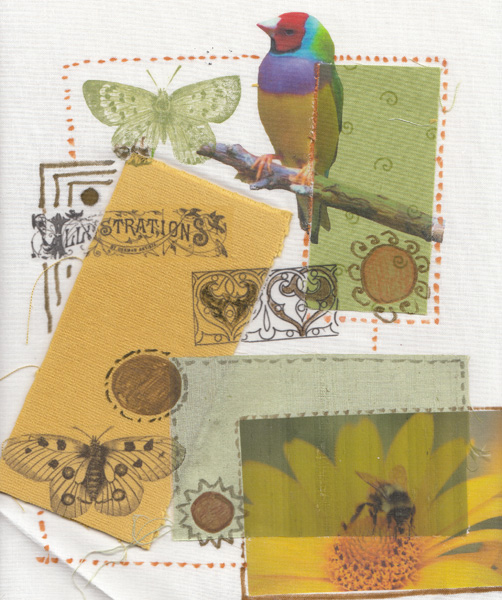 The yellow rectangle is velvet, the upper green rectangle is cotton, and the bottom triangle is silk. They were all fused to a white fabric square with Wonder Under before transferring the images to the fabric square. Each of the fabrics accepted the images well. The "dot doodles" were made with Tombow marker directly on the Tap and then transferred.
Images are printed on the polymer side of the TAP with an ink-jet printer or created right on the TAP, and then placed face down on the fabric or paper. They are then covered with Parchment paper and ironed for 10 seconds with a hot dry iron. The images are permanent - and so is the color - so there are many uses for this technique - and it is lots of fun to play with it!
Next: Using Kraft-Tex, a combination fabric-paper with any mixed media technique.