Gelli Prints, Figure Drawings, and Experimentation
Last week I met with my artist friends and made more gelli prints. As mentioned before, I don't love acrylic paint, so I tried cheap tube watercolors for some of the prints. I already posted one watercolor gelli print with daffodils painted over it with WN gouache. Today I wanted to experiment with different types of pens over both watercolor and acrylic gelli prints.
This is a print made with watercolor. I resized my graphite drawing from "Live Figure Drawing" at the Society of Illustrators, printed it out on copy paper, and then transferred the image to my gelli print with carbon paper. Finally, I used a dip pen with a Speedball 5B nib to "draw" the figure on the print. The ink did not disturb the watercolor ar all and drawing was very easy.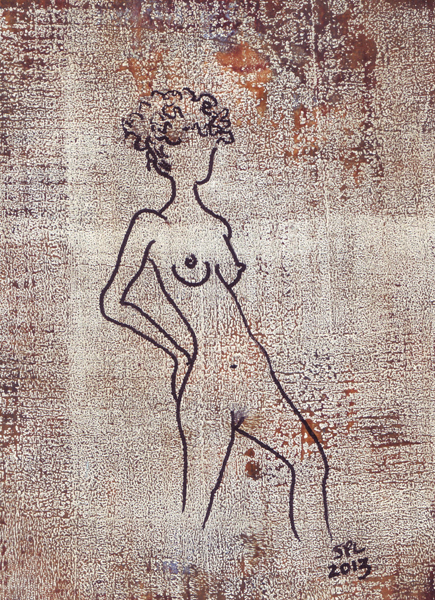 Teri recommended Sharpie Paint, Souffle, or Glaze pens for drawing over acrylic. Since I wanted only a black pen, I tried both the Sharpie oil-based and water-based Paint Pens over two acrylic gelli prints. I transferred my earlier drawings using the method outlined above.
The first figure was drawn with the oil-based pen and the second with the water-based pen. Both were easy to draw and the pen seemed completely unaffected by drawing over acrylic paint. Can you tell that I ruined many previous pens (in my ignorance) by trying to draw or write over acrylic paint?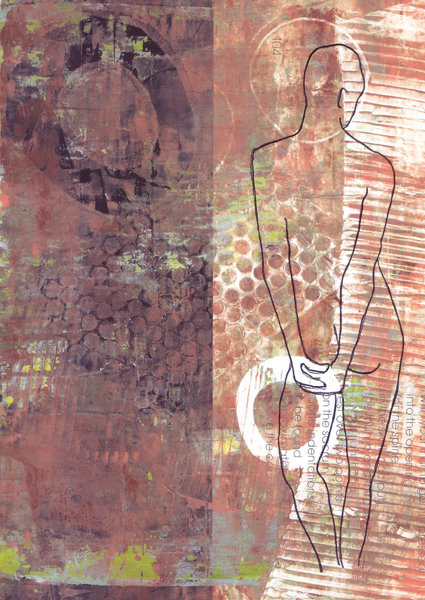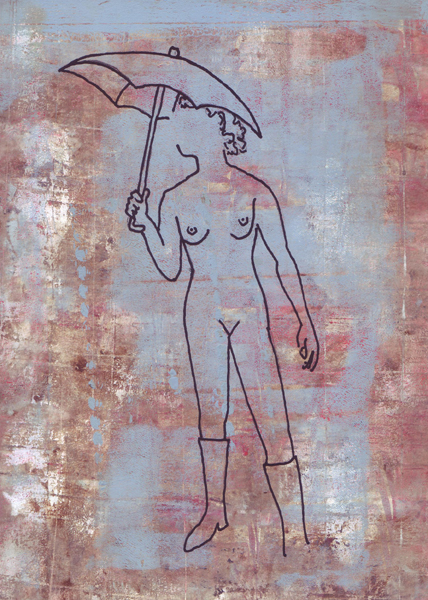 I'm not sure where this series is going, but it might be fun to collage some of these types of prints in an accordion book.