SE Asian Modern and Contemporary Art - Asia Week
This is a longer than usual Blog Entry: "On August 15, 1947, India threw off the shackles of British rule. In the ensuing period of transition, turmoil, and hope, six young firebrands came together in Bombay, now known as Mumbai: K. H. Ara, S. K. Bakre, H. A. Gade, M. F. Husain, F. N. Souza, and S. H. Raza united to form the Progressive Artists' Group (PAG). In the early 1950s, Krishen Khanna, V. S. Gaitonde, and Mohan Samant joined their ranks; Ram Kumar, Tyeb Mehta, and Akbar Padamsee became closely affiliated with the Group. Together, the Progressives forged fresh art for an independent India and in time have come to be known as the country's quintessential moderns. " https://asiasociety.org/new-york/exhibitions/progressive-revolution-modern-art-new-india
My artist friends and I discovered SE Asian Modern and Contemporary art several years ago and fell in love with their colorful, native, representational art, while much of the art world was deep into abstract expressionism. We go to the auction previews at Christies and Sothebys during Asia Week, and in 2018 Pat and I saw an amazing exhibit at the Asia Society about the Progressive Artists' Group which formed in 1947 while the British were leaving India.
Last week Christies had more than 100 pieces of Modern and Contemporary SE Asian art from this time period, and 4 of us went to see the paintings and sculpture, Each of us sketched from the works. These are 4 paintings/prints that I liked - the 4th one is just one figure from a much bigger painting.
B. Prabha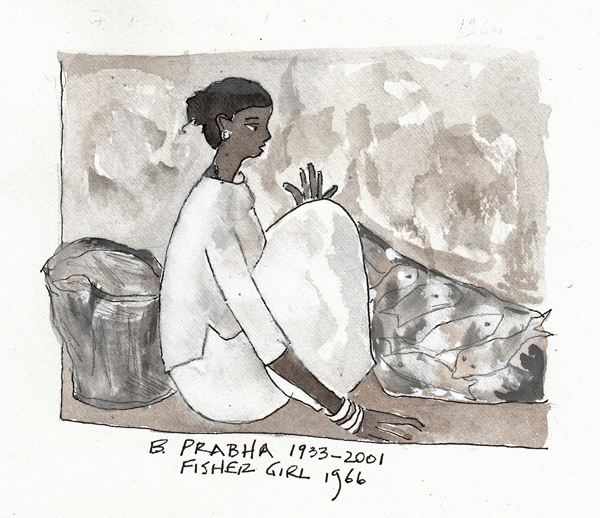 MF Husain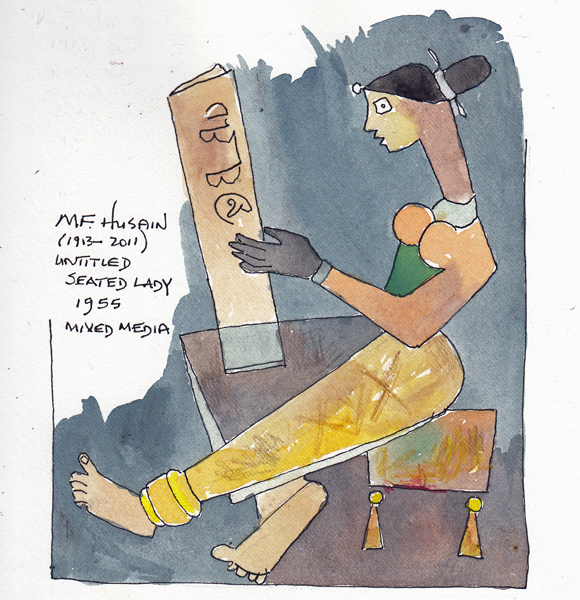 MF HUsain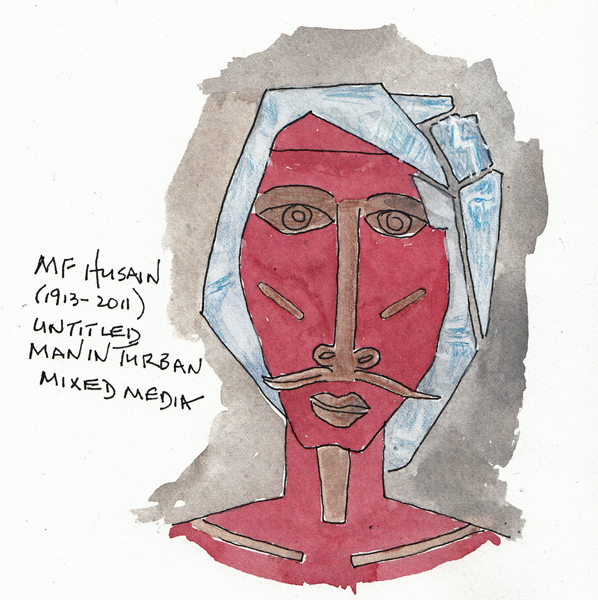 Avinash Chandra
I learn so much from drawing/painting exhibited art, including the color palettes, line qualities, and subjects. I also see the gallery exhibits through a different prism as I learn about which drawings and paintings I am attracted to.