Catching Up
There is a break this week in our lessons in the Studying Under the Masters course, so I decided to post information about my other Winter activities.
1. Our grandchildren: We took 8 year old Robbie and 4 year old Zach to the Museum of Modern Art last week to listen to the Children's audioguide. The museum has short, interesting commentaries for about 15 of their major art works in the permanent collection. Here they are listening to the commentary about Matisse's painting The Piano Lesson. All of our grandchildren love to do this.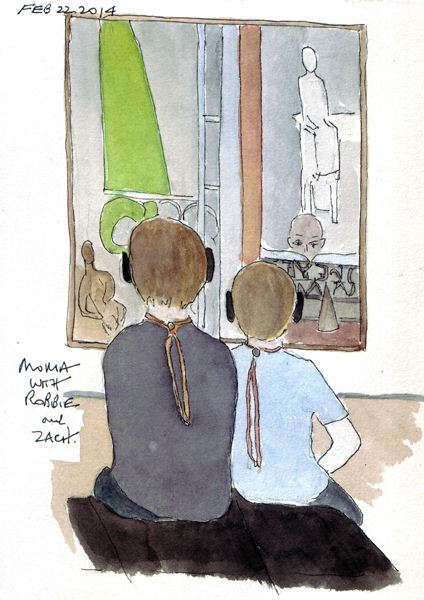 2. Surface Design: This semester I'm taking a surface design class at Fashion Institute of Technology (FIT) - fifteen 4 hour lab sessions using dye to paint on silk. I have some experience with these techniques, but thought it would be fun to study with an artist from FIT.
Here is a watercolor painting of one of 6 butterflies that I "drew" with gutta and water soluble resists on silk and painted with Sennelier dyes. I also painted it as a watercolor so I would have an entry in my daily art journal.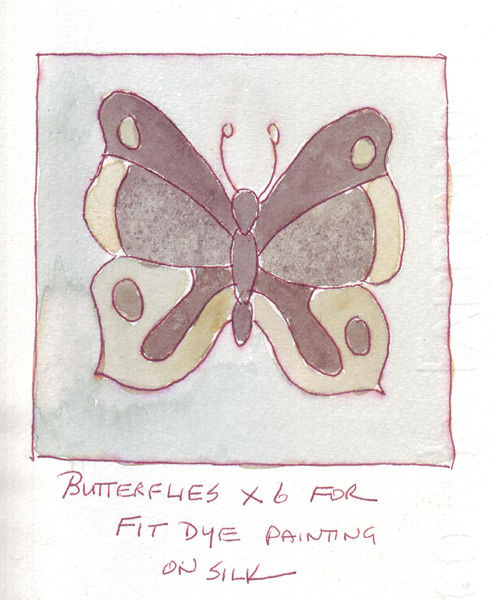 3. Family Research: I signed up for Family History Writing Month in February and decided to write a story (at least 250 words per day) about my Great-great-great-great grandmother Christina Wampler. She was kidnapped by the Delaware Indians in Lancaster Co. PA in 1757, during the French-Indian War, and was returned with 206 captives to Carlisle PA in 1764. The British took 1500 soldiers to the Ohio Valley to force the Delaware, Shawnee, and Mingo Indians to sign a peace treaty and return their captives. Her kidnapping and return were both reported in the PA Gazette (Benjamin Franklin, editor) and here is part of the handwritten captive list that I obtained from the Clements Rare Manuscript Library at the University of Michigan.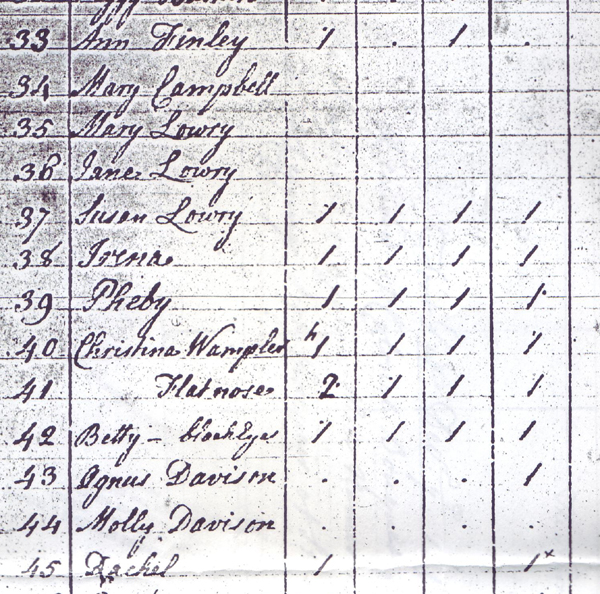 She is #40 on this scanned portion of the list and was returned with one shirt, 1 legging, 1 shoe pack and 1 blanket. I don't know her age when she was kidnapped, but the fact that she was able to tell soldiers her full name after living with the Indians for 7 years and speaking their language, makes me assume that she was probably older than 4-5 years. Notice a captive named Flat Nose right below her - this is obviously a name given by the Indians. There are also captives listed with only their first names. She married Peter Graybeal, had a large family, lived in Ashe Co, NC and died in Jackson Co. Ohio.
I'm hoping that someone with more information about her may find this entry in a Google Search. I exchange information with other Graybeal descendants, but there is so much more to learn.