Bookbinding at International Quilt Festival in Houston Texas
Last week I took 3 days of classes at the International Quilt Festival in Houston. Imagine my surprise when I saw a sophisticated bookbinding class in the festival catalogue. Lisa Louise Adams, a quilter and bookbinder from Hawaii, brought many beautiful, different types of her books to show us, and provided each of us with a pre-cut kit so we could finish the book in one day. Coptic books open flat, making them good sketchbooks. I taught myself to make two, from books and videos in 2013, but never mastered the two needle stitching pattern. So this was the perfect class for me.
I'll post information and photos on the 2 days of surface-dying in the next month. Both were classes on "shibori" one using real indigo dye and the other using an indigo color Procion MX dye.
Finished Book: We each chose our favorite batik fabric, paper strips for an accordion, signatures, button, and thread color. This is my finished book.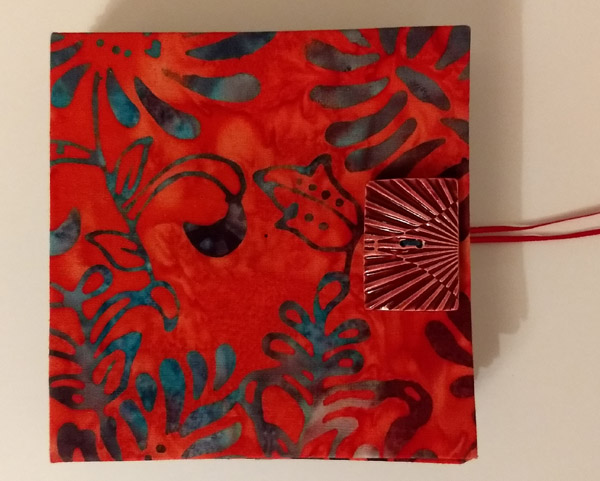 Full Cover: The book opens completely flat.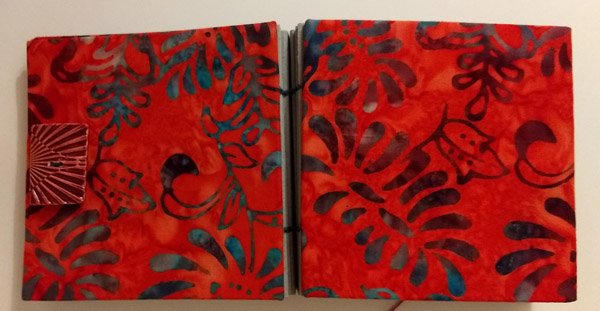 The spine to show the Coptic book chain stitch which binds the concertina, signatures, and covers in place.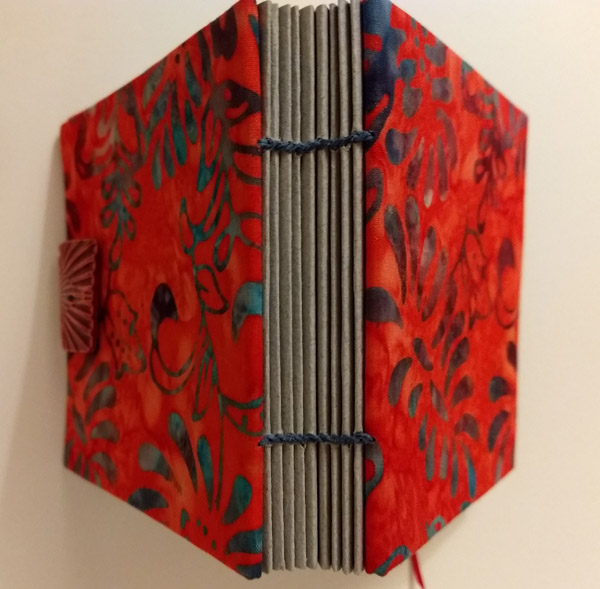 Unlike my traditional Coptic books, this one has a concertina (accordion folded Mi Tientes paper), into which each 4 folio signature was stitched. And the cover was a fabric-covered, folded piece of binders board that made it unnecessary to punch holes on the outside of the covers. You can see an example of the folded cover on the left - I still need to glue it shut now that I added a ribbon for closure.
The paper will be good for sketching and the small size will be easy to carry.