Another Bookbinding Adventure
I use watercolor journals for my daily sketchbooks/visual journals and for the last 18 months I used books I made with commercial bookcloth on the covers. This year, while experimenting with corn dextrin resist, I created pieces of fabric that I thought would make fun book covers for my art journals and remembered a blog entry about "paper-backing fabric as book cloth" by Roz Stendahl. I made 4 different pieces of cloth to try and decided to make a completely experimental journal - one that I wouldn't grieve over if it didn't meet my expectations.
I used Fabriano Artitico to make my watercolor journals with 140 lb soft press paper that was grain long - and could use full sheets to make books that were approximately 5.5" X 7.5". I love this size because it fits comfortably into a small leather backpack, is portrait format, and and the pages are just big enough for my drawings. However, last year Fabriano Artistico paper was changed to grain short and I could no longer make that size book from 1 1/2 sheets and with 2 full sheets, there was considerable waste. So this experimental book was redesigned to be 7.5" wide and 7.3" high. I never worked in a square format, so this was a perfect time to try it.
I followed Roz's instructions precisely (I thought), but was unable to glue (PVA) the fabric to the Thai mulberry paper without bubbles. I allowed it to dry and then carefully peeled it off and then tried option #2. In her blog entry Roz describes book cloth made by someone in her classes using Stitch Witchery as the fusible. I used Wonder Under (another polyamide) in machine applique since it was marketed in 1986 - and remembered a scientific study done by Drs. Evenson and Crews, of the International Quilt Study Center, at the University of Nebraska - Lincoln, in which they studied "selected quilting products containing adhesives" (Quilters Newsletter, March 2004). Stitch Witchery and Wonder Under were comparable in their lightfastness tests and artifical aging experiments - both were proved acceptable for quilts intended as heirlooms to last less than 100 years. At 100 years of artificial aging, there was slight yellowing. Since I have no guarantee that my family won't put my sketchbooks in terminal storage considerably before 100 years, I considered this an acceptable risk!
Here are photos and a journal page celebrating my new, beloved, watercolor journal. The fabric was made with green and blue procion MX dyes and corn dextrin resist to make the squiggly lines. It was then ironed onto the paper using Wonder Under and handled just like book cloth to make my journal cover. I'm in love!!
Book Front: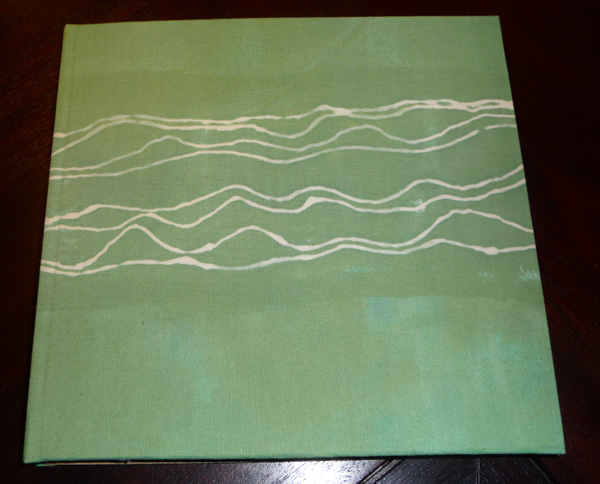 Book Back: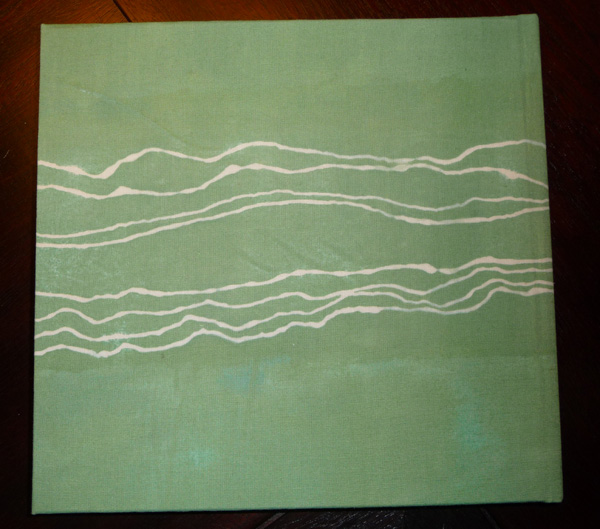 Standing Book - the dark green is the metallic end paper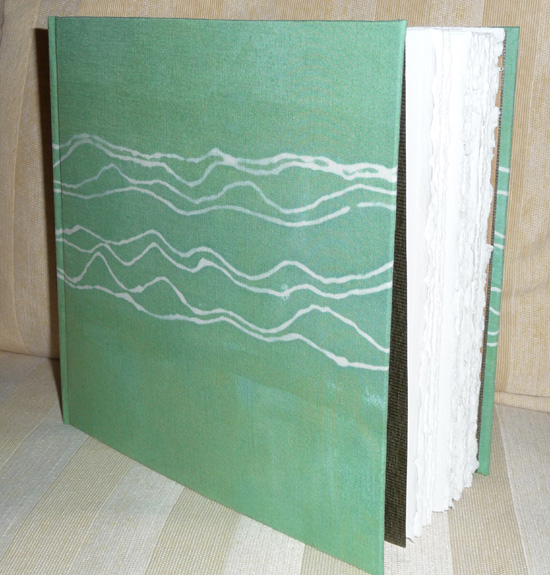 My Happy, Happy Journal Page: