Last Blog Drawing and Art Progress For 2011
I sketched today during a Gallery Talk on Rembrandt and Vermeer at the Metropolitan Museum of Art.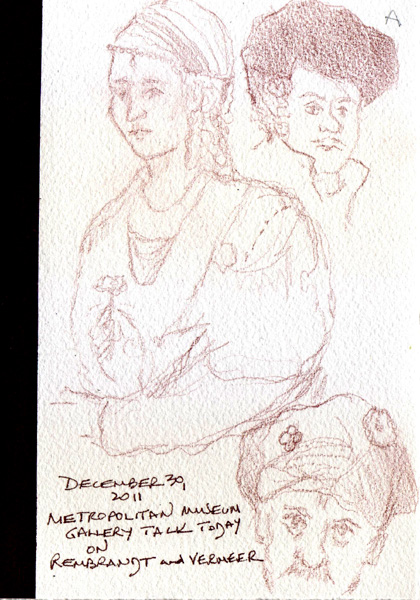 Last January I outlined my art goals for 2011 - just to have a map to guide me through the days. I maintain a sketchbook for pleasure and get joy from recording the little things in my current life. No one is monitoring my progress, but I still like to reflect on how I spent my time, so I can make plans for 2012. Here is my progress on 5 goals.
1. Continue to work on drawing skills with daily drawings and monthly live figure drawing.
I averaged more than one sketch per day for the full year, and went to figure drawing monthly at the Society of Illustrators. I also went to figure drawing at the Battery Park City summer program for the first time. Although I want to eventually try using just a brush and watercolor to "draw" figures, I stretched a little and sketched figures, during the 20 minute poses, with a watercolor pencil and then water to shade the figures.
I'm working on a 100 Faces project from Carla Sonheim's Drawing Lab book and added 33 portraits - drawing from live people who usually didn't know they were being sketched. I now have almost 70 done. And I even tried sketching portraits of my mother and a few grandchildren, although I still struggle trying to schieve a likeness of their faces.
2. Continue to work on watercolor painting skills.
I'm not sure that I'm making progress although I am trying to increase my range of values. And I'm using watercolor pencils more in my daily sketches, especially when I'm sketching faces on subways and buses.
3. Continue making my daily watercolor sketchbooks and expand my bookbinding skills.
I made and used 7 watercolor sketchbooks and one recycled watercolor book during the year and now I'm working on an artist's book - collaging, drawing, and painting Christmas ornaments that I made over the last 30+ years to document my collection.
4. Continue education through on line classes, workshops, and directed reading.
Participated in the three 2011 Strathmore online workshops.
Took an online mini-class with Kate Johnson on watercolor pencils
Took an online class with Mary Ann Moss to make a "Remains of the Day" journal and then slowly filled it over the entire year.
Took a class with Judy Coates Perez at Quilt Festival, painting and drawing on fabric with Tsukineko inks.
Worked through several DVDs on Art Journals, Read Cathy Johnson's Artist's Journal Workshop twice, Reread Twyla Tharp's The Creative Habit, Read Eric Maisel's Coaching the Artist Within and Peter Steinhart's The Undressed Art or Why We Draw.
5. Enjoy and nurture connections to the art community.
I blogged 8-9 times per month (2X/wk), met regularly with members of my Journal Study Group to visit museum exhibits, go on sketchcrawls, and "make art" together, attended 8 Central Park Sketching and Art Meetup Group sessions, and followed Everyday Matters (Yahoo Group) and many art blogs for inspiration and contact with the broader community.
I'm am thoroughly enjoying my retirement and I'm thrilled that I found another passion to add to my other lifelong interests. My blog will be 6 years old next week and hopefully I will make some plans for 2012 by then.