Fun Day in Art Supply and Second Hand Book Stores
Last week my visitor Kathy and I spent the day searching for books to recycle as watercolor sketchbooks and browsing for art supplies. It was great fun and very successful. I taught Kathy how to make a watercolor sketchbook during her visit last year using the tutorial that I prepared for this blog.
One of the used books she bought has wonderful ink drawings of houseplants, one of which I used to do this painting of the pot and plant. I don't have any green paints on my Winsor-Newton watercolor palette, but have 3 yellows and 3 blues, meaning I can mix 9 different greens. I plan to systematically mix all 9 and make a card for my sketchbook since I can never remember which I like best.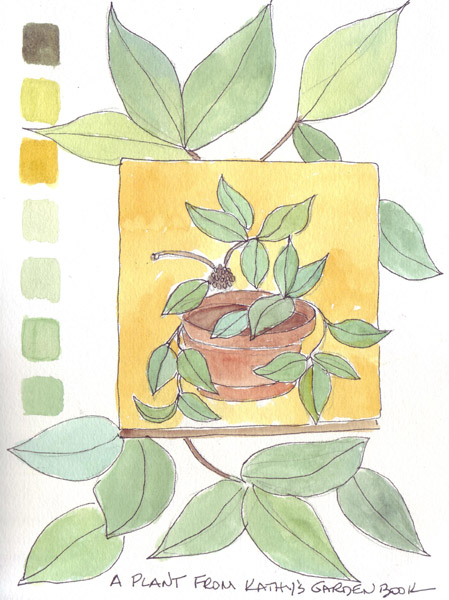 We went to Utrecht and Dick Blick and both of us found supplies we couldn't live without. This is a quick drawing of most of my purchases. Dick Blick was having a "Madness Sale" and I was delighted to find a Gelliart plate to make monoprints and a set of Lumiere paints for fabric. I love painting and dying cloth to make book cloth for my watercolor sketchbooks.