Bookbinding for August
I selected the "Two Sewn As One", or Double Pamphlet, book for August. It can be found under both names. Two signatures are created, and then opened with one sig valley fold down and the other valley fold up. The 3 (or 5) holes are punched together, through both folds at the same time, and then sewn using a standard pamphlet stitch. There are two folds visible on the spine, but essentially no thread.
If you want a cover, the paper is folded in half, and placed between the signatures, with 1/2-1" of the cover mountain fold to the right of the sigs center folds, and the rest of the cover to the left. It can also be punched at the same time as the signatures and sewn with all 3 layers together.
Here is my book, made with a cover and center mountain fold between the sigs. It was so plain that I stitched on a print of a collage I did that was inspired by Venice.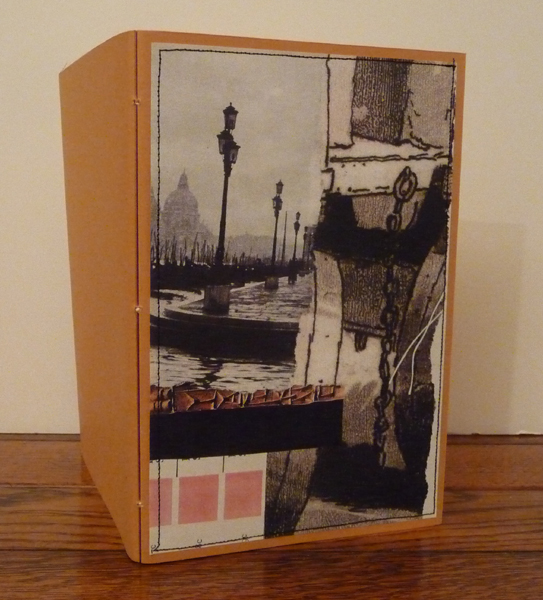 You can see the placement of the cover fold, and the flaps I added, in this photo. Imagine that you were going to open both signatures and the cover - moving them all the way to the left at the same time, and you will see how they are layered for stitching.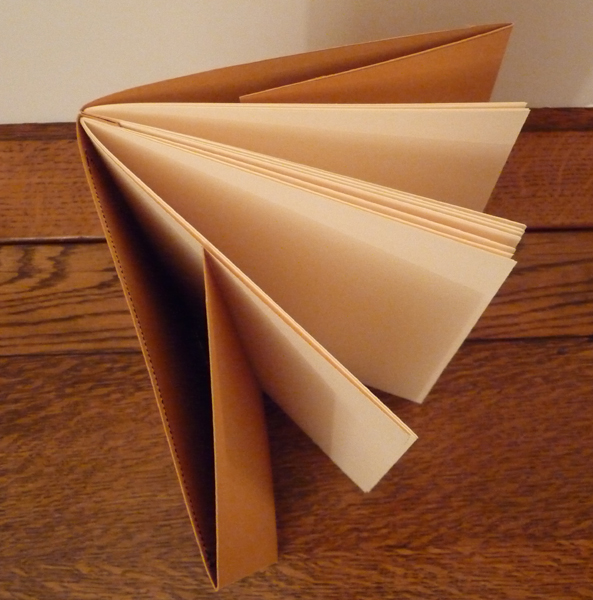 I then wondered if there was another way to attach a cover, and made the following small samples. In the book on the left, I added the cover after the two sigs were sewn together by going through the holes from the back sig to make another 3 hole pamphlet stitch.
In the book on the right, I stitched a decorative paper in, wrong sides together, as I did with the orange cover in the first book. I then attached the book to the cover by gluing on the decorative paper on as end papers.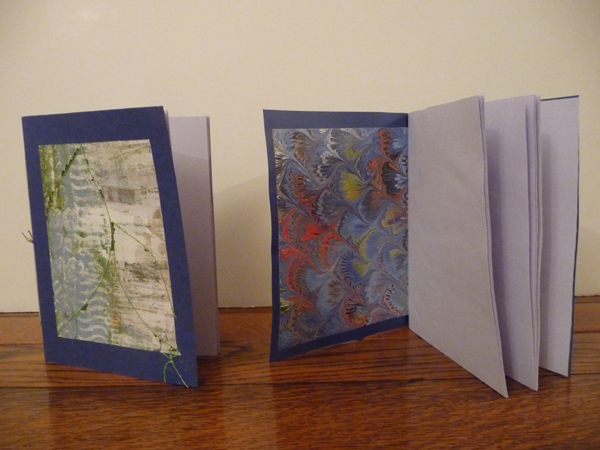 These are very easy books to make and can be bigger than the usual pamphlet stitched book. Does anyone have a source for large sheets of sturdy, cover weight, decorative papers?
This month I also made another fabric book cover. The idea and the measurements came from a Quilting Daily Webinar presented last week by Christina Lane and Diane Gilleland. I used some of my New York City fabric, and red lining fabric, for this cover which fits a Moleskine Cahier notebook. I really like it and can see it as a perfect small gift.