Important Information About Omicron
In early November the Omicron variant was detected in South Africa, but it is unclear where it originated. The early genomic sequencing showed many mutations, 30-32 on the spike protein according to some reports, and 26 of them were unique. For comparison, the beta variant has 3 mutations and the delta variant 2 on the spike protein to which the virus attaches to enter the cells. At approximately the same time Dr. Angelique Coetzee, a GP in Pretoria South Africa, noticed young healthy patients complaining of extreme fatigue, muscle aches, scratchy throat, slight cough, with and without fever. None of the patients had lost their sense of taste or smell. Most were males and <50% were vaccinated. All of them were Covid positive, had mild disease, and recovered at home. On November 18th she contacted health officials about 7 of these patients who were Covid +, but with atypical symptoms. The genomic sequencing lab had just sequenced a new variant (B.1.1.529) and it was announced by WHO on November 26th. There are now cases in many countries, but as of today none reported in the US.
Mutations can affect the virus in 3 ways: (1) Increased transmissibility, (2) More severe disease, and (3) Less protection from vaccines and monoclonal antibody treatments. Cases of Omicron infections increased quickly in S.Africa, but at that time they had a low infection rate and this might have been a super spreader event. Covid patients reported from other countries often had traveled to Southern areas of Africa. It will take at least 2 weeks to study the variant more. The number of cases, hospitalizations, and deaths will be counted to determine transmissibility and severity. The mutated virus will be grown in culture or portions synthesized and then tested in neutralizing antibody assays with sera from vaccinated or infected patients and monoclonal antibodies. Genomic screening will need to be increased to see if Omicron can replace Delta. Delta is currently the dominant variant (In NY 100% of samples for several months) and increased transmissibility of the Omicron would change those numbers. See Below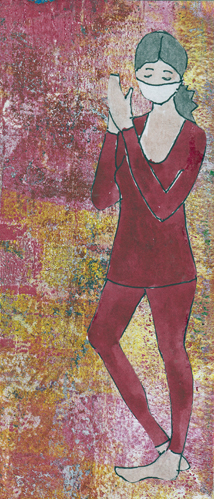 Concern, not Panic - Please wear masks indoors again as we all start to spend more time inside because of the cold weather. Be very careful until the variant is better understood. Everyone who is not vaccinated should do so now. Vaccinated people should all get boosters which really ramp up the immune response and that is sometimes enough to prevent severe disease even when the vaccine isn't as effective against the variant. Natural immunity may not be enough. In recent studies there were significantly less Covid cases in vaccinated people than in those with only natural immunity from a previous Covid infection. The vaccine companies are already starting the early phase of vaccine preparation against the Omicron variant if it is needed. The mRNA viral segment can be prepared in 6 weeks and vaccine production can take as little as 100 days.