Vaccine Trial in Pregnant Women and Their Babies
Clinical vaccine trials are rarely done in pregnant women, or children, until there are substantial safety data. This week a prospective cohort study of pregnant women was reported in a preprint from two of the Harvard hospitals. There were 84 pregnant patients, 31 lactating patients. and 16 non pregnant reproductive age controls. Titers of SARS-CoV-2 antibodies were measured in serum samples and breast milk at 4 times, including at delivery. Umbilical cord sera were also collected at delivery. Antibody measurements were compared to pregnant women 4-12 weeks after they had Covid-19.
Patients in this study had antibody titers in serum and breast milk after vaccination that were comparable to the antibody titers measured in non-pregnant vaccinated patients and all of the titers were higher than those induced by Covid-19 infection. Antibodies were also present in the umbilical cord samples at the time of delivery. The Pfizer-BioNTech and Moderna vaccines were known to be safe in pregnant women, but this study demonstrates that the immune response is as robust as in non-pregnant patients and the babies are probably protected for some period of time due to the antibodies passed to them from the mother during the pregnancy and in breast milk. This is the largest study to date of vaccinated pregnant women. See Below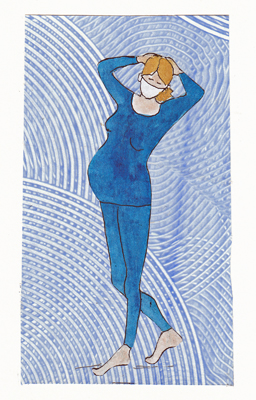 It would be wonderful to have this type of data earlier during an epidemic or pandemic, but pregnant women aren't studied until the safety of the vaccines is known - when millions have been vaccinated. The number of pregnancy complications in these vaccinated patients, like miscarriage and gestational diabetes, were comparable to those in non-vaccinated patients. Thousands of pregnant women were already vaccinated, safely, but this trial confirmed the excellent immune response in pregnant women and newborn babies. Pfizer has started a clinical trial of their vaccine in 4000 pregnant women so more data will be available later this year. But at least physicians now have trial data to reassure their pregnant patients about the benefits of the vaccine.