Urban Sketchers 30 X 30 Challenge: June 20-25
It is hard keeping up with my art goals while being on vacation with my husband at the home of very good friends. I find that I am only able to do it by taking photos and painting during quiet times in the house. Only the bird feeder and the squirrel were painted "in the moment." I am also trying to paint in my summer vacation sketchbook each day. It takes me much longer to do direct painting because I need to carefully plan the layers.
The stuffed bunny was sitting among rocks at the Acquinnah Wampanoag cemetery on Martha's Vineyard. The Beach roses were photographed on the path we walked to the beach for our morning beach walks.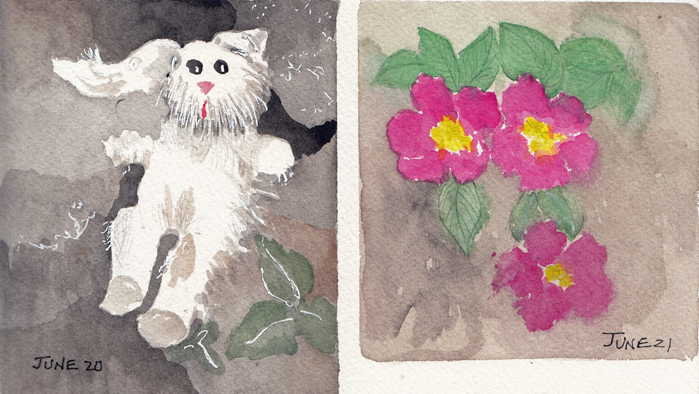 The wampum flower was painted from shell pieces I brought home from the beach. The yacht was photographed in the harbor in Vineyard Haven on a day we saw two movies and attended a Town Hall meeting by Senator Ed Markey. The bird feeder needs an air traffic control system - for constant bird visitors, and this squirrel who jumped from the tree to the top of the feeder, and then snuck down the pole to the yellow feeder to eat.