Happy Halloween! And a Few Art Links For Inspiration
Today, while I'm in Houston Texas for the annual International Quilt Festival, I wanted to share two links for quick drawing inspiration.
Link #1 Draw Tip Tuesday: Koosje Koene, one of the co-founders of Sketchbook Skool, presents quick tips for artists on her You Tube channel every Tuesday.
https://www.youtube.com/user/koosjeko1975
I watched her draw a crowd, showed my 8 year old Grandson Zach the video, and then sketched my crowd, with him watching, on a page in my "imagination" sketchbook.
https://www.youtube.com/watch?v=zkGSzb5-og4
Zach gave me suggestions for the animals! And hopefully will draw his own crowd in his Sketchbook.
Link #2: Art Projects for Kids
On the same day, I did a black cat project with Charlie (age 5) and Zach (age 8), to make for Halloween decorations. This idea came from a blog I follow called Art Projects for Kids.
https://artprojectsforkids.org/blog/
Here is the blog entry I saw: https://artprojectsforkids.org/black-cat-collage/
I sketched the outline of the cat and cut it out. They traced my cat and cut theirs out, and all 3 of us made the collage with a black Sharpie drawn scene behind it.
Here is a photo of our 3 collages.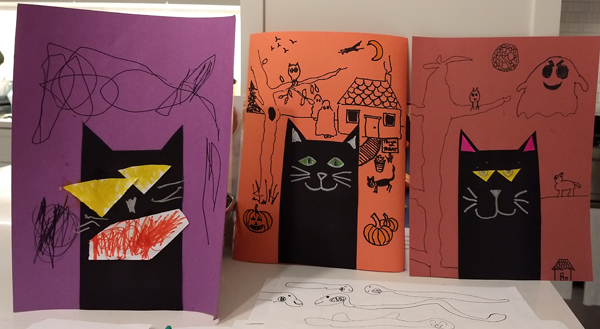 From Left to Right: Charlie, Grandma, Zachary.