Sketching Sculptures
I like to draw sculpture when I am in art exhibits, and recently sketched several sculptures, and then painted around them in my sketchbook, leaving them as single line drawings. Henry Moore made many Mother and Child sculptures and I love all of them. This small one was in the Impressionist and Modern Auction at Christies, estimated selling price $70-90,000.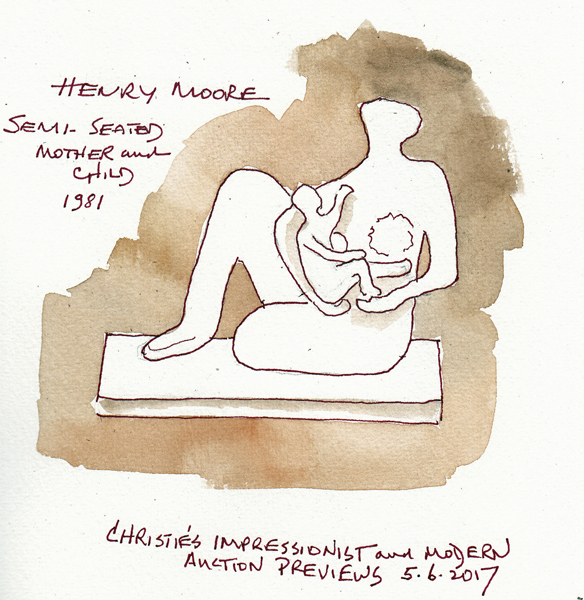 Argentinian artist Adrian Villar Rojas created this year's Met Rooftop Garden this summer. He spent months at the Met collecting nearly 100 pieces of art from various parts of the world and different centuries. Each was then resized, recreated by 3D printing and other similar techniques, and combined with large human figures in many combinations. Each piece was painted with multiple layers of car paint to protect them outdoors. As I understand it, he is representing art that is now no longer in context and deconstructing the Museum by the combinations created creating a labyrinth.
http://www.metmuseum.org/exhibitions/listings/2017/adrian-villar-rojas
I liked one of the black sculptures which included a recumbent Indian youth and multiple small female figures on and around him. Here are three of the figures I really liked.