Battery Park New York City - August 26th
I Love Battery Park! For me there is something so magical about sunshine, lots of trees, Harbor and River breezes, and lots of activity. The Art Program of the Battery Park City Conservancy, which runs from May through October, drew me down to the Park on Wednesdays (weather permitting), and now I can't wait and watch the weather forecast from Sunday through Wednesday morning. From 11-1, the program is based in Wagner Park - the west side of Battery Park, along the Esplanade and in beautifully manicured flower gardens that extend from Pier A to South Cove. From 2:30-4:30 there are clothed figure models to draw in South Cove. This is a quick picture of one of the many shady areas in Wagner Park, and the people you can see on benches are some of the artists. The rest are spread out in the gardens or along the Esplanade facing the Harbor.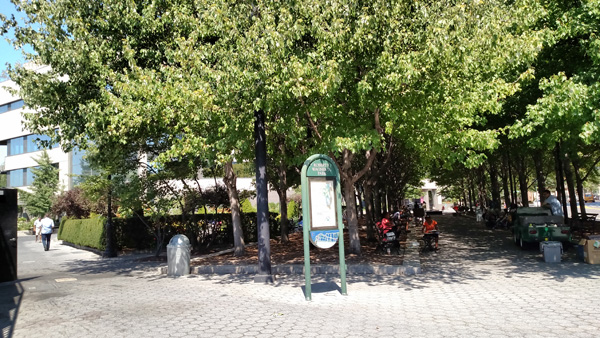 On the right side of the above photo, in deep shadows, is the Art Cart. The staff from the Conservancy drives the cart to both sites, filled with free art supplies, including stools, drawing boards, paper, and a large variety of media. I always bring my own supplies - but love the stools. I used Photoshop to lighten the photo and focus on the cart for this blog post.
This week I challenged myself to draw the setting for a beautiful water lily that I saw in one of the Gardens. Landscapes are my least favorite types of drawings/paintings. If I'm painting flowers I prefer to carefully observe one or a few. While I was there, the Conservancy gardeners were busily at work, I was in the shade and breezes, and loved the first hour. Here is my sketchbook page. I sat near the water during the second hour and prepared a new sketchbook, mixing my primary watercolors to put a sample of my palette on the front page.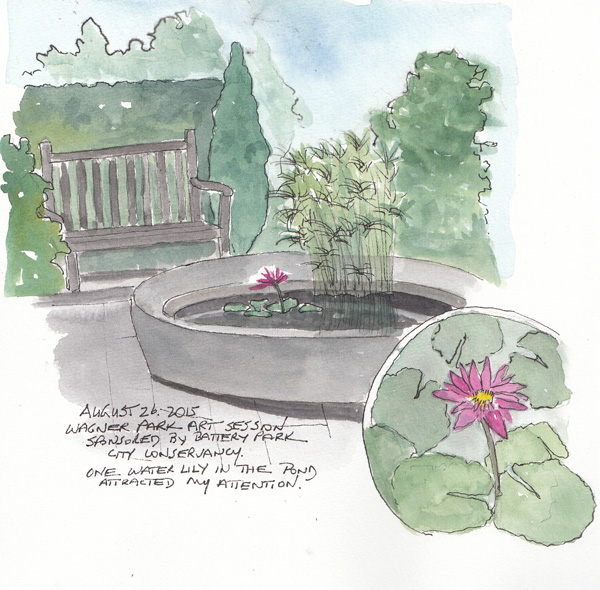 And here are several of my figure drawings from the afternoon session.
Five Minute Sketch: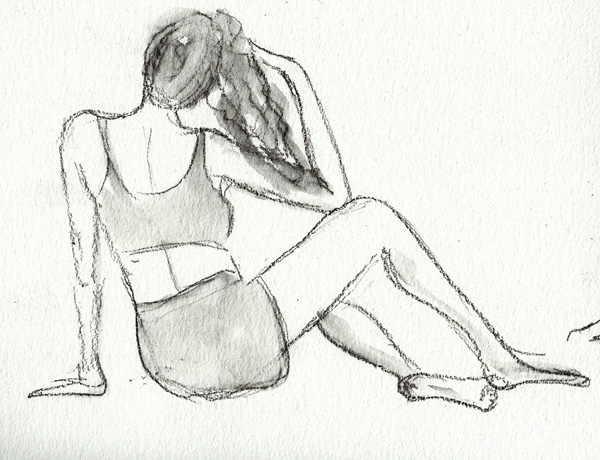 Composite of 10 and 20 minute sketches: These were sketched on the same large sheet of watercolor paper, but scanned individually and put back together in Photoshop.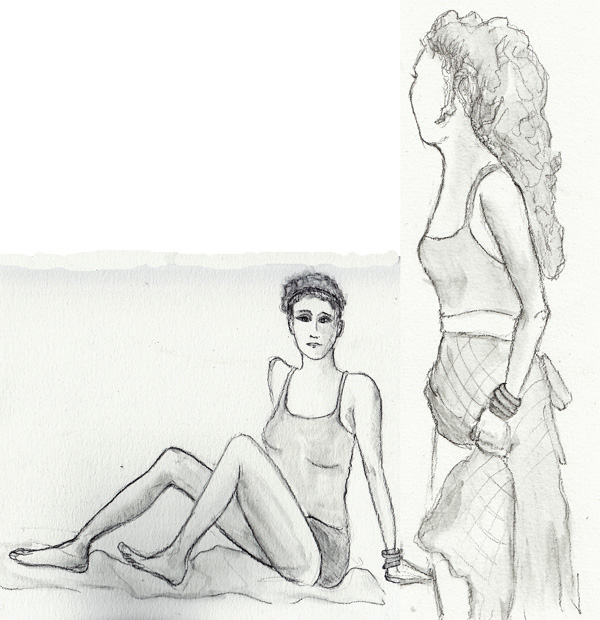 After Figure Drawing I walk with my friend Benedicte along the water, and we revel in the Harbor activity. This was one of the first things we saw this week.