Two Exhibit Visits
When I go to my class at Fashion Institute of Technology (FIT), I can see some of the student exhibits this month. There is currently an extraordinary bird exhibit done by first year students. Pairs of students selected a type of bird, studied it in depth and then recreated the bird on a very large mannequin, using thousands of feathers. I LOVED the flamingo and took approximately 5 minutes to sketch it walking through the exhibit on my way to class. The week before I took a photo of it and I've posted that here too.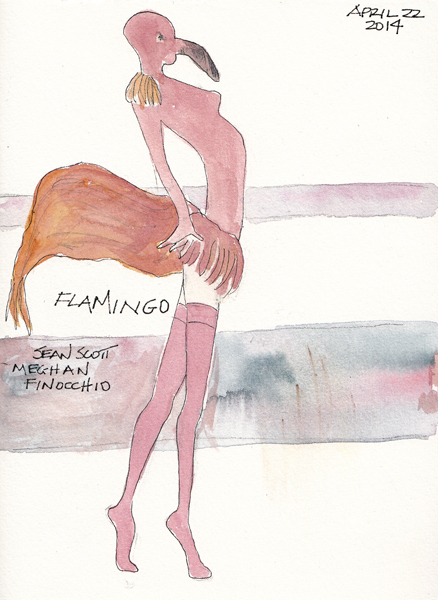 There are about 20 enormous birds in the exhibit - such creativity!!
Saturday morning I read about the opening of a New York City exhibit on ArtDaily.org. This is a wonderful daily news site about exhibits opening in museums and galleries around the world - with a daily short educational video as well.
Mnuchin Gallery at 45 E. 78th St. currently has an amazing exhibit of approximately 30 20th Century bronzes by all of the big names of contemporary art ("Bronze in the 20th Century: Casting Modernity" April 24-June 7, 2014). None of these large pieces were obviously for sale - many came from museums and private collectors. My husband and I thoroughly enjoyed the installation in this magnificent townhouse gallery and I sketched two sculptures and painted them when I returned home.
MAX ERNST King Playing With His Queen
GERMAINE RICHIER Mantis