Gauguin Metamorphoses
A big and unusual Gauguin exhibit recently opened at the Museum of Modern Art in New York City. Although there are several of his oil paintings - mostly done in Tahiti - the focus of the exhibit is on his experimental works across mediums: ceramics, wood sculpture, wood cut prints, watercolor and gouache monotypes, and oil transfer drawings.
The MoMA website is quite good - and you can both learn about Gauguin and see many examples of these works. The first link is to the MoMA website, the second is a description of the exhibit from ArtDaily.org.
http://www.moma.org/interactives/exhibitions/2014/gauguin/home
http://artdaily.com/v2/PhotoGalleries.aspx?GalleryId=6
I loved learning about his experimental techniques - his monotypes and oil transfer drawings. But when I wanted something to sketch, at the end of our visit, I selected one of his wood sculptures. They were beautiful!
Here is a photo of the wood sculpture called "Nina" - taken with my phone from the exhibit monograph (done in the Museum Shop because No Photography was permitted.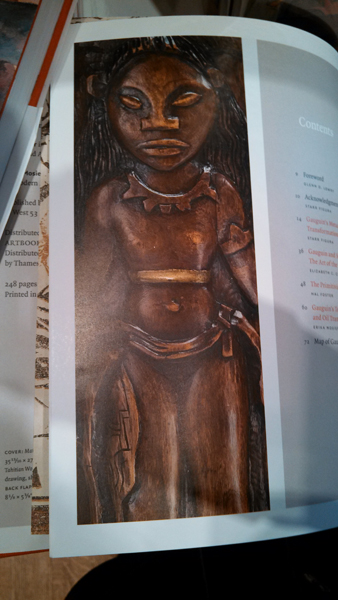 And here is my copy of Gauguin's simple self-portrait and the image of "Nina" from the wood sculpture.