Sketchbook Pages From My Meetup Session
The Central Park Sketching and Art Meetup Group met in Battery Park on Saturday and I finally was able to draw Pier A - the oldest pier on Manhattan island. It was built in the 1880s as a home for the New York Harbor police and was landmarked in 1975. It is currently being renovated, with a projected opening in May 2014. It will have a high end restaurant, food court, event space, and a tourist information center. That area definitely needs a few more restaurants during peak tourist season! Here it is - all newly painted! The clock is said to be an old ship's clock.
This drawing was done as a double page spread - and this is all I finished in the 45 min session.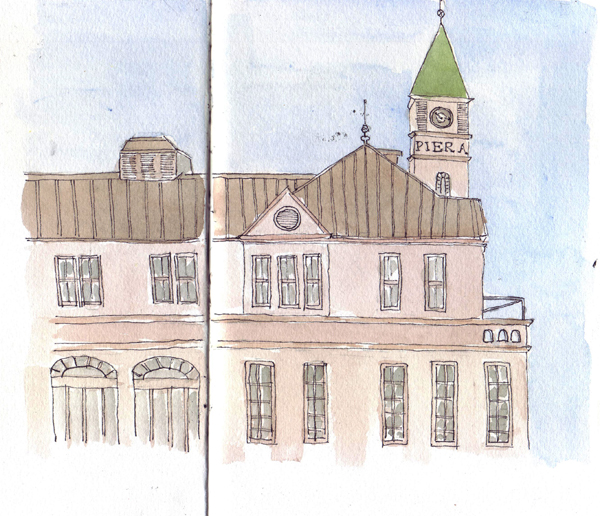 The group then moved further north in Wagner Park - to the gardens next to the Museum of Jewish Heritage- and I painted lovely pink flowers. I have no idea of their name, but they were a delicate pink with a yellow "fuzzy ring" and flat yellow green center. Can you tell that I am not a gardener and never have been?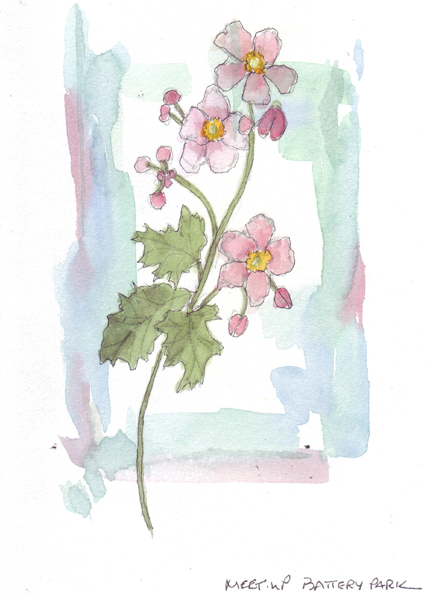 I had a few more minutes before we ended session 2 and shared our sketches, so I did a fast sketch of one of the other participants. Some day I will learn how to get a hat firmly planted on someone's head.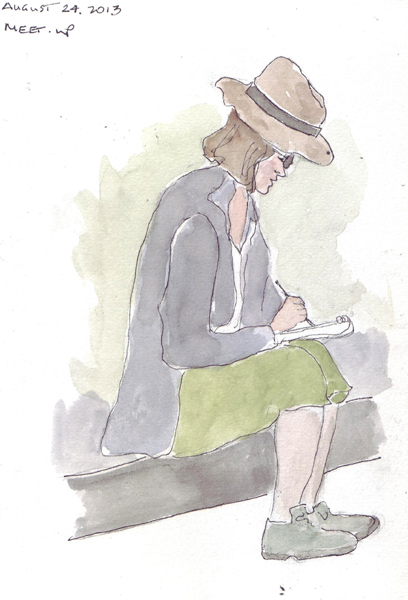 During our final session, at the north river corner of South Cove, I sketched gorgeous trumpet vines - being dive-bombed by big black flies that were hovering around the flowers. The weather was fantastic and it was a perfect 3 hour meetup.