Searching For Inspiration
Several weeks ago I asked for ideas for my daily sketches because I was bored with the possibilities during the last days of winter.
Irene Brady suggested looking at animal webcams and sent me the link for an eagle nest. While watching it, I snapped a phpto and then sketched one of the parents feeding a baby. Thanks Irene.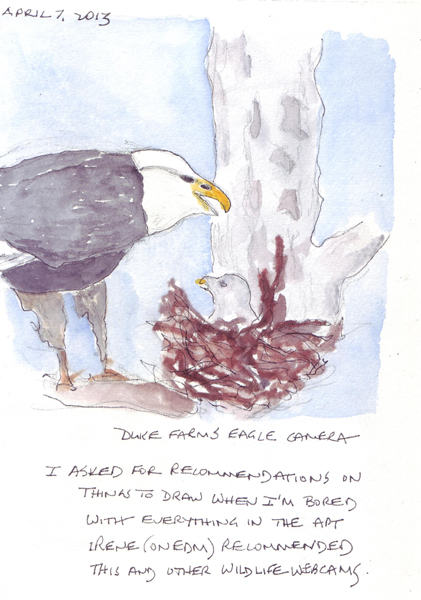 I also went back to my first sketchbook (started in 1998), and looked at a few of my early sketches. Everything was sketched in pen and no watercolor paint was added until almost the end of sketchbook 3 (2008).
In 1998 I sketched many Picasso ceramics at an exhibit at the Metropolitan Museum of Art - all in black pen. I loved the shapes and decided to redraw them and paint them wet-in-wet with watercolor.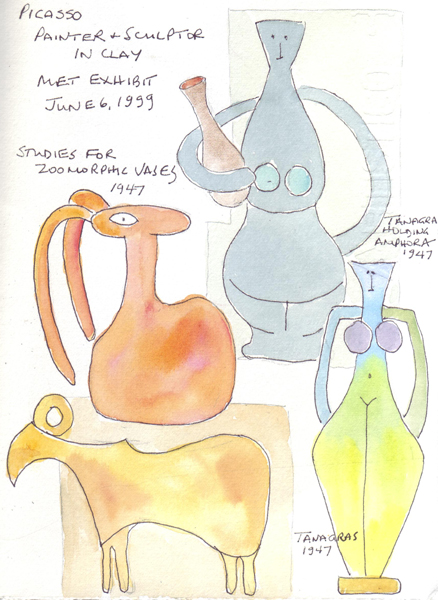 I also challenged myself to draw the Don Quixote image from one of the Picasso plates with my "hated" Pentel Pocket Brush Pen.