Two Museum Visits
I'm taking a rest from my Venice Sketchbook - and posting two paintings done at recent museum visits.
The Jewish Museum in New York has a lovely exhibit of Edouard Vuillard and His Muses (1890-1940). I knew very little about Vuillard's life, and really enjoyed seeing his paintings put in context. The museum website has a brief summary of the stages of his career and a wonderful collection of paintings of people in beautiful interiors.
I painted a detail from one of the interiors that I really liked - in part because of the composition/placement of the two figures.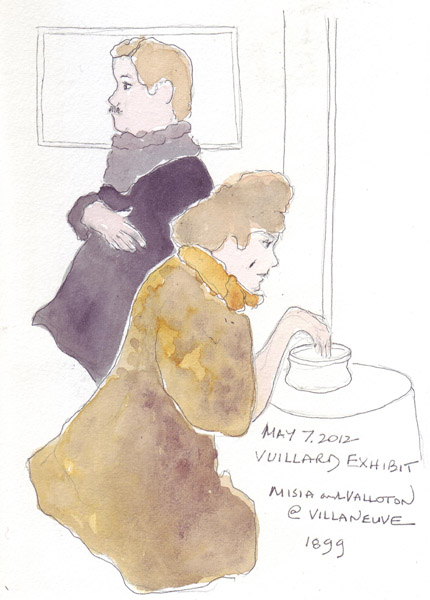 Last week we visited the new Barnes Mseum in Philadelphia. Dr. Albert C. Barnes, physician and chemist, began collecting impressionist, post-impressionist, and early modern art in 1902. The collection was housed in a suburb of Philadelphia, with limited hours, and poor lighting. Barnes' main goal was to use his collection for education and he developed a school on the premises.
Barnes arranged the art himself - very symmetrically - on the wall, and without regard for the artists or the chronology. When he died, his will stipulated that the collection could never be moved, and that all of the art must remain in exactly the same position as the day he died. There were 24 galleries and the 181 Renoir paintings were placed throughout most of the galleries. There are also 69 Cezannes, 59 Matisse, and 46 early Picasso paintings - these are the big 4 artists. But there are many other artists, and even El Greco and Goya!.
The will was challenged, and primarily to save the collection by increasing visibility and revenue, a new Museum on Ben Franklin Parkway, just opened. It has 24 identically-sized galleries and every piece of art except one is in exactly the same place on each wall.
Reservations must be made to see the beautiful modern museum and the collection - and it is really worth it. Those who visited the original location said that the lighting is so superb now that every painting looks like it was cleaned!
If you want to see the holdings for a specific artist, use this link.
Since we were there during opening week, small groups of visitors were taken on tours of the collection - no dawdling allowed! As in the original location, no sketching and no photos were permitted. But I was able to buy this postcard to record our visit in my sketchbook that evening.