The Steins Collect: Matisse, Picasso, and the Paris Avant-Garde
Gertrude, Leo, Michael Stein and Michael's wife Sara were avid collectors of art in Paris during the early decades of the 20th C. We saw the preview of a new exhibit at the Metropolitan Museum of Art the day before we left for California, and I didn't have time to finish sketches that I did at the exhibit until now.
The Met website presents lots of information about the Steins, highlights of the 200+ works of art, and even a virtual reconstruction video of the rooms and the placement of art on their walls.
My first sketches were from Gallery 1.
"On October 15, 1904, the second Salon d'Automne (an exhibition of contemporary art held each fall) opened with retrospectives devoted to five artists who were considered among the most relevant for the younger generation of painters: Cézanne, Pierre Puvis de Chavannes, Odilon Redon, Renoir, and Henri de Toulouse-Lautrec. The impact on Leo was dramatic. Two weeks later he and Gertrude emptied their bank accounts and spent all their spare money on modern art."
I always loved Toulouse-Lautrec's drawings and combined 3 women from the works presented in this gallery.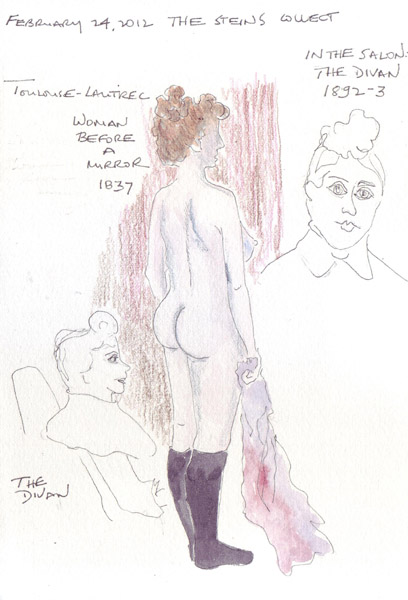 I wasn't very impressed with early Matisse landscapes in their collection, but saw a little of Matisse's later style in his painting of the Young Sailor I from 1906.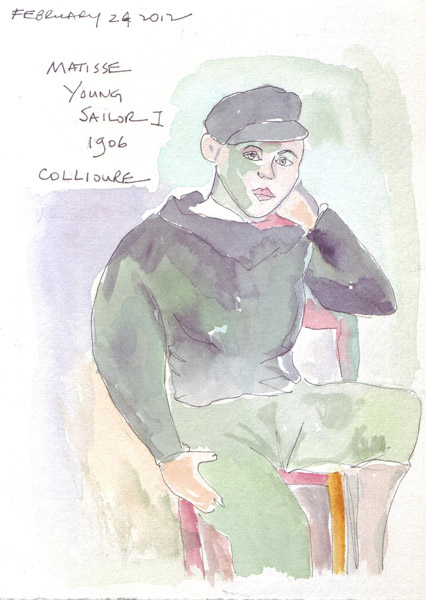 My final sketch was of a very early Picasso nude and head. I always sketch at least one of his drawings when attending an exhibit or auction preview - so this was an easy decision.