An Afternoon at the MoMA Print Studio
The Museum of Modern Art, in conjunction with two upcoming exhibits (Print/Out and Printin'), set up a Print Studio in the Education Building. I spent the afternoon there yesterday and made a small collage book.
The "heart of the Print Studio" is a collection of books known as the Reanimation Library. It is fascinating and well worth reading about the development of the collection and its permanent home in Brooklyn. It was developed as a resource for all artists, regardless of their medium.
When I arrived, I met my friend Judy and had a little tour of the Print Studio. Here is an overhead photo of the space, with the Reanimation Library on the back wall, copiers, scanners, and computers in the back corner, and work tables for visitors supplied with a variety of art tools and paper.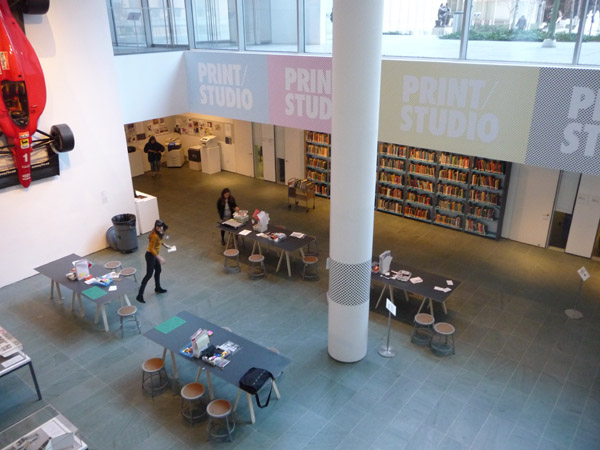 I don't have much experience with collage and wanted to make one during the afternoon. One of the staff said, "Why don't you make a book? We haven't had anyone do that yet." I browsed books on the shelves and pulled 6 that had interesting illustrations and photos, and was immediately drawn to one called The Story of Writing. I love text mixed with images and made some copies of great alphabets from the book. I then made a few copies from a Science text called Pathways in Science: The Next Generation and settled down to "play."
I folded 2 folios and added images that appealed to me for the front cover. I really intended to make this a book about text and writing. Pages 2 and 3 were from the frontpiece of the science book - a wonderful bookplate for assigning the book to students and the title page with the stamp for the Reanimation Library on the title page. I was still interested in pursuing the theme of language and writing - and the next thing I knew, I was making a book about human reproduction and the inheritence of genetic traits. I was very much in the zone and channeling in a unique way. Fascinating what our brains do if left to wander!
At the very end of my "art play," I opened the 3rd book I brought from the shelves, The Atlas of Human Anatomy, and copied a pregnant uterus for one final collage. At the end I sketched a human figure and cell, some genetic symbols, and added watercolor pencil and stamps.
Here are the pages of my finished pamphlet stitched booklet.