Art and Quilt Day
Yesterday my friend Teri and I had a full day of Art and Quilts - and here is one painting and one photo of the highlights.
At 9:30 AM I was one of only several dozen people in the new German Expressionism exhibit at the Museum of Modern Art and I sketched this beautiful sculpture. It was the final day of the Members' Preview Days and they opened 1 hour before the museum opened. It is a fabulous exhibit and I will return several times to see it, learn more, and copy the Masters.
After exploring several other venues at Fashion Institute of Technology and a Gallery and Lunch in Chelsea, we ended the day at a special 6 day exhibit sponsored by the American Folk Art Museum and made possible by Joanna S. Rose who funded the exhibit of 651 of her red and white quilts for 6 days at the Park Avenue Armory as a gift to the city of New York. It is impossible to describe the impact of the number of quilts and the artistic installation in this enormous 55,000 square foot space.
Martha Stewart said "
"Two days ago, I went to the most incredible display of quilts that I have ever seen. My TV crew joined me at the Park Avenue Armory at 643 Park Avenue (between 66th and 67th Street), in New York City to see the American Folk Art Museum's presentation of "Infinite Variety: Three Centuries of Red and White Quilts." Joanna Rose, a New York quilt collector, has a collection of more than 1,300 quilts but she really wanted to put her entire collection of red and white quilts on public display, all 651 of them and no two alike! If at all possible, I urge you to see this exhibit, which runs through March 30th. It's simply breath taking! And please tune into my television show on Monday on Hallmark Channel, to see the segment about the quilts that we shot at the Armory."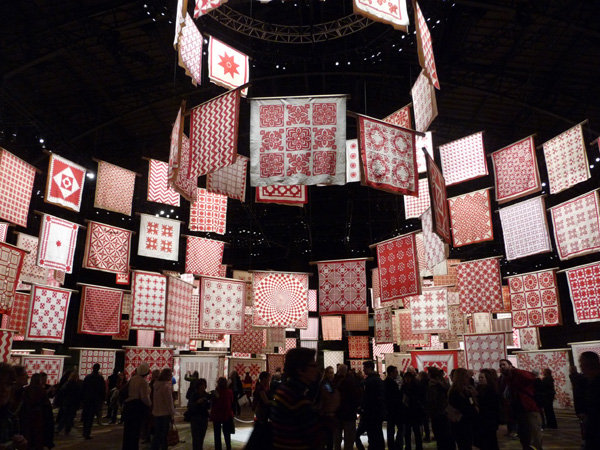 This is one of my photos, but you can read about the exhibit and see slide shows here and here and here.