Art Progress - 2010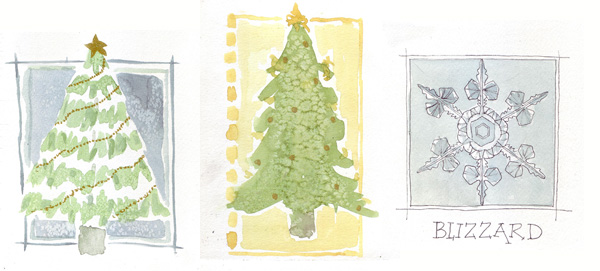 1. Maintain an artist journal - doing one page per day minimum - to include illustrated journal pages, travel sketches, skill practice pages, figure drawing, etc.
I did maintain my daily sketching, doing at least one journal page per day with only a rare "missed day." When I'm just too busy or tired to do one, I usually add two sketches the following day. And on sketchcrawl days and on days when I go to figure drawing I have as many as 19 sketches for the day.
2. Publish blog entries twice each week - share EDM challenges and other select pages in order to participate in an online art community.
I posted to my blog twice weekly almost every week and everyday in May - an ongoing project. I love my friendships which began because of my blog and continue to be amazed at how important it is for communication among like-minded people. This year I spent time with two EDM members - in person (Liz and Raena) and met 2 members of my Journal Study Group because of my blog. I stopped doing EDM challenges early this year and haven't figured out why. It is probably a combination of having enough self-imposed challenges and exercises to do from some of the books I read monthly.
3. Attend Figure Drawing sessions at least 1-2 X /month. Try other tools and techniques during 20 minute poses.
I attended monthly figure drawing sessions at the Society of Illustrators and went twice during several months, especially to make up for their closure during August. The only new tool used was a blending stump - but I did sketch more faces on the figures, so I think I'm progressing.
4. Build More Art Skills: Prepare a schedule for working through my art technique library - resuming Dodson drawing book exercises this month. Copy the Masters in Museum exhibits locally.
At the beginning of the year I selected 12 books to work through monthly during the year - to learn new skills. And I completed every one! I decided to do this because I want to learn on my own, not through art classes and lessons, and it is perfect for me. I didn't resume the Dodson drawing book. I'm stuck at the point that I need a live model in bright sunlight. However, I continue to work from the Master drawings in the galleries and museums here in NYC. These are the books I read:
January: Betty Edwards: Color: A Course in Mastering the Art of Mixing Colors
February:Cathy Johnson: Watercolor Tips and TechniquesFebruary:Hannah
Hinchman: A Life in HandFebruary:Barbara Steicher: Sketchbooking
March: John Raynes: Drawing and Painting People
April: David Rankin: Fast Sketching Techniques
May: Diana Trout: Journal Spilling
June: Gerald Brommer: Collage Techniques
July: Jeff Mellem Sketching People + ½ Carla Sonheim Drawing Lab
August: Linda Kemp: Watercolor Painting Outside the Lines
September: John Raynes: Figure Drawing Workbook
October: Melanie Tests: Inspired to Quilt
November: Second 1/2 Carla Sonheim Drawing Lab
December: North Light Books Staff: Sketchbook Confidential
5. Continue with Sketchcrawls, Meet-up Central Park Drawing Group, Journal Study Group to sketch NYC.
I have a wonderful group of friends to sketch with - the Central Park Drawing and Meet-Up Group that meets now twice each month (except during the coldest months), and my Journal Study Group. I also spent 3 days with EDM member Liz Steel who was visiting NYC from Australia and spent an afternoon sketching with Liz and Jason Das (Urban Sketcher).
6. Deal with my Internal Critic and Fear of Failure: Develop a strategy to fool my internal critic so I can continue to add to "My Apartment" journal. The journal and project need to be converted from "too precious" to a playful experience using some of the strategies I have copied and saved from my reading.
When EDM member Casey Toussaint was visiting me this summer, we discussed this common problem and challenged each other to do at least one more page in the sketch books that we made during our bookbinding class. I have now completed a total of 2. I have no problem using my other hand bound watercolor sketchbooks or plain watercolor paper or the Strathmore Visual Journals that I received from Rice Freeman Zachary as a "giveaway." There is something about the fact that the above mentioned precious sketchbook was made during my only bookbinding workshop and is as perfect as a sketchbook can be because of the equipment available.
7. PLAY: Try some new art tools - Schmincke watercolor paint triad, dip pens, Pentel pocket brush pen, oil pencils for figure drawing, etc
I have tried lots of new tools this year - Schminke watercolor paints in cool and warm triads, a Pentel pocket brush pen, a ruling pen, dip pens with several types of nibs, several types of paper, including Yupo, Neocolor II watercolor crayons, and Shiva paintstiks. I also learned how to make foam stamps and copied a master painting in stamps and learned how to make and use Thermofax screens. My art buddies challenged me to make a multimedia book using everything I owned - working in layers - and with many images per page and I completed a 16 page journal.
8. Bookbinding - continue to make watercolor journals for myself, trying different sizes and my own dye painted fabric as book cloth.
I learned how to make book cloth from my hand dyed and painted fabrics and made 7 watercolor sketchbooks for my daily journal. In addition, I made several other types of books including a hidden spine and Australian piano hinge book (both inspired by Gwen Diehn) and another recycled book for summer beach paintings.
9. Optional: Add to Theme Projects (London, NYC) - Try to complete some other pages in these 2 journals or just get over the angst of having two unfinished journals and move them to the "completed journals shelf"
I completed 11 pages in my NYC recycled sketchbook this year and I'm almost done with it! Most of my NYC sketches are in my regular daily sketchbook, because that is what I carry with me, so I will not make another NYC sketchbook when this one is done. I'm going to move my London book to the finished stack because I completed 3 fifty page sketchbooks during our many visits to London in 2006-7 and I really don't enjoy sketching from my photos now that we are home.
10. Keep myself open to new projects and adventures. Be willing to "stretch" whenever the opportunity arises.
I think that this was easy to accomplish, because I was surrounded by such wonderfully creative friends and our Journal Study Group provided amazing inspiration and lots of sharing of specific skills. And as added inspiration, Gwen Diehn became an honorary member and spent full days with us when visiting her family in NYC.