The Mourners at the Met
One of the current exhibits at the Metropolitan Museum of Art is The Mourners - numerous alabaster grave sculptures (1443-56) from the tomb of John the Fearless, Duke of Burgundy, and his wife Margaret. There is a fabulous website with photographs of all of the sculptures. Each can be rotated 360 degree on the website for full viewing.
"The Mourners from the tombs of the Dukes of Burgundy are deeply affecting works of art. Beyond their evident visual and narrative qualities, we cannot help but be struck by the emotion they convey as they follow the funeral procession, weeping, praying, singing, lost in thought, giving vent to their grief, or consoling their neighbor. Mourning, they remind us, is a collective experience, common to all people and all moments in history."
Sophie Jugie, Director, Musée des Beaux-Arts. Dijon
The sculptures are in perfect condition - and so impressive, all lined up in two rows in the middle of the Medieval Hall in the middle of the Museum. I am most attracted to the ones with the the hoods over their heads and sketched one full figure and one head.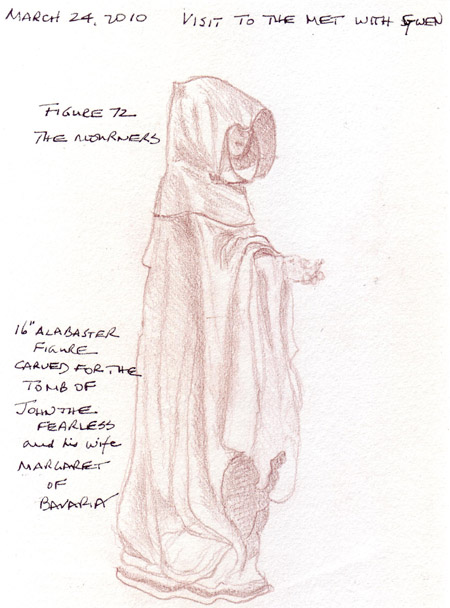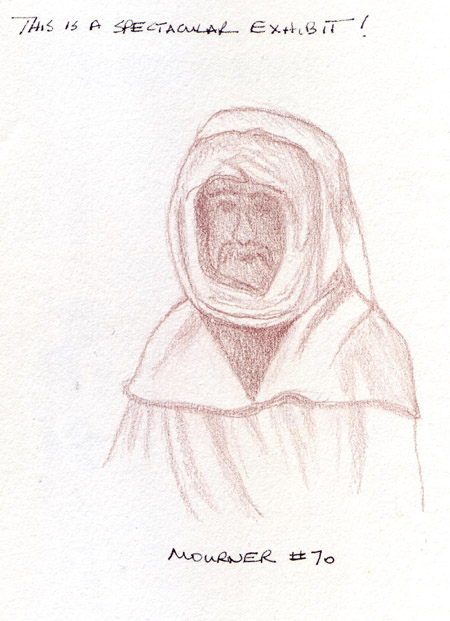 I'm so delighted that our modem was replaced and we now have internet access again.