Daily Journal Pages
I try to sketch in my journal daily and love documenting some aspect of my day in my sketchbook, although some days I have nothing much happening and just sketch for practice. Here are a few of my recent pages, as I try to vary the compositions.
Making a Few More Magnetic Bookmarks from Watercolor Paper - and writing extensively about the project on the page: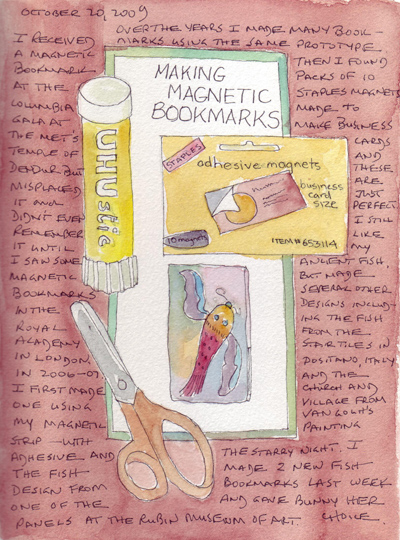 Houston Intercontinental Airport: A requisite airport journal page, at the end of my recent trip to Quilt Festival in Houston. I was afraid that this airport cart driver would return before I finished the sketch, so I worked REALLY FAST.
An Afternoon Recycling Old Books with Watercolor Paper:
I was teaching an afternoon workshop to 3 of my art buddies using the method outlined here, and we all finished one book over the course of 3+ hours.