Meetup Central Park Sketching and Drawing Group
Yesterday the Meetup Group met at the Alice in Wonderland Statue at the Conservatory Water (we call it the Toy Boat Pond) in Central Park.
I was anxious to get home to our newest grandchild (Zachary), his brother Robbie, and Annabelle who came to meet her cousin Zachary this weekend. Therefore, I only stayed for two rounds of sketches with the group. The weather was wonderful and the Park, as I walked past the Boathouse and Bethesda Fountain, was wonderfully crowded.
For my first sketch, I did the Mad Hatter that is on the right front of the statue and painted him while there.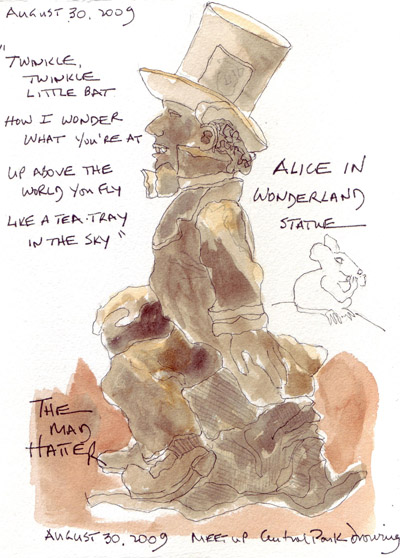 I then sketched Alice, from the right side of the statue, while drawing and sitting on a bench in the shade. Only the mushroom was painted then - and I'm not sure whether I will add color. My heart wants to dress her in a blue dress with a white apron like the children's book character instead of bronze!
My last drawing was of the White Rabbit and his pocket watch - again painted in bronze colors.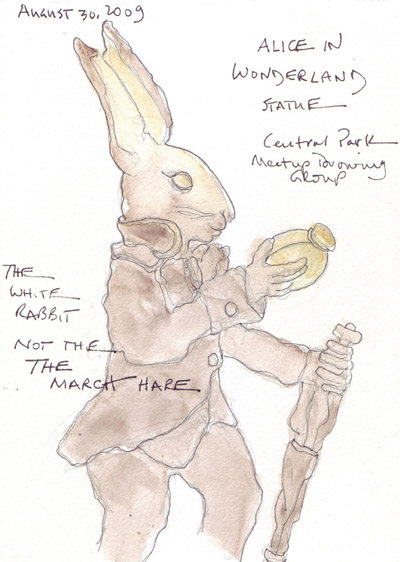 My grandchildren have climbed on this statue many times over the last few years and it was great fun having the inspiration and time to really get to know it through drawing.