New Drawing Exhibit at the Met:From Raphael to Renoir
Raphael to Renoir: Drawings from the Collection of Jean Bonna
January 21, 2009–April 26, 2009
Galleries for Drawings, Prints, and Photographs, 2nd floor
This is a wonderful new exhibit (120 drawings - spanning 500 hundred years) and a wonderful opportunity to study masterpiece drawings. I thoroughly enjoy trying to copy the lines in these beautiful works, and will probably return to draw and learn from a few more.
Here are the two drawings that I did last weekend.
Giovanni Francesco Barbieri (1591-1666) was called Il Guercino - the squinter - because of his crossed-eyes. I first saw his drawings at the Courtauld Gallery in London and was mesmerized by his beautiful figures. The original was done with pen and brown ink, I used brown colored pencil.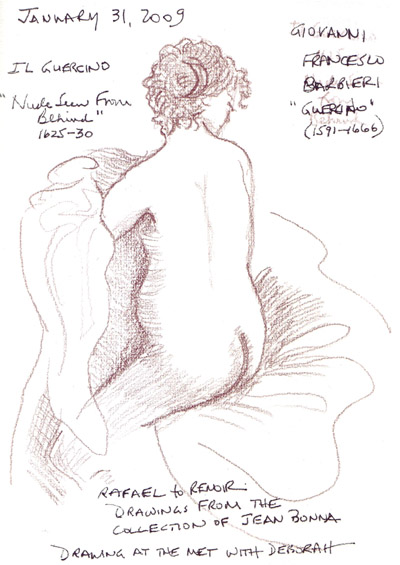 Jean-Baptiste Greuze (1725-1805) At the entrance to the exhibit are three drawings of girls heads by Greuze- one more wonderful than the next. The original was done with conte - I used colored pencil.