Thanksgiving in New York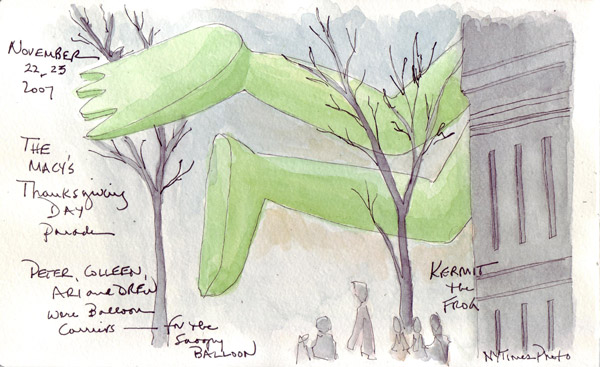 While my husband and I were preparing dinner for our 15th Annual NYC Family Thanksgiving holiday, cousins were balloon handlers for the giant Snoopy balloon in the Macy's parade. This sketch was taken from a photo on the front page of the New York Times yesterday - showing the Kermit balloon floating down the Avenue. We learned that it is really hard work!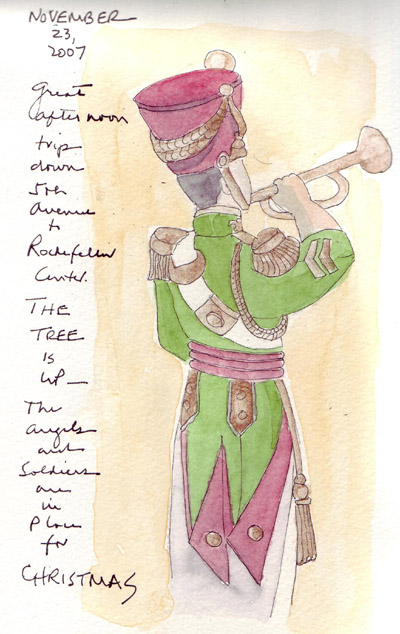 Yesterday my 88 year old mother and I took the 5th Avenue bus down to Rockefeller Center to see the Christmas decorations and the annual tree. Although it won't be lit until Wednesday night, the lights are already on the tree and the entire area around the skating rink is beautifully decorated and full of visitors. This sketch was made from a photo that I took of one of the 3 soldiers on the north border of the rink. It was really cold and outdoor sketching just wasn't going to happen!
I love the Christmas decorations in New York City - and even don't mind the crowds. My, mother, who hasn't been in NYC for the holidays for many years, had a wonderful time. She's amazing and kept up beautifully!