London Visit: Part 15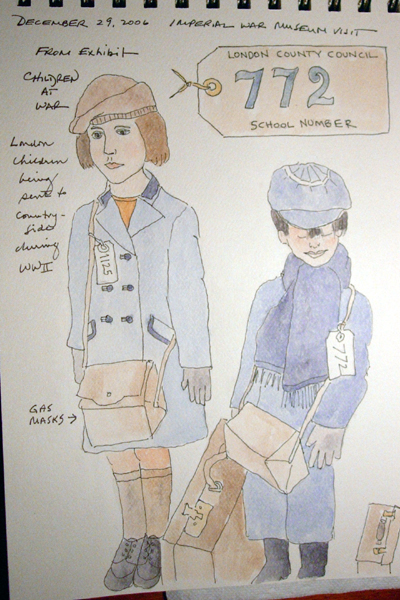 We returned to the Imperial War Museum with our grandchildren. Henry loves the interactive submarine and asks us to take them back each time we visit. For the holidays there was a small display in the middle of the ground floor from the "Children at War" exhibit. The mannequins drew me in instantly and I had to sketch them during our short visit. While I was standing there sketching, an older man, his son, and grandson came to look at the display and the grandfather told his family how he was sent to the countryside in 1939 - an only child sent to live with strangers in a small country village. He told me that the two beige shoulder boxes were the gas masks. He was returned to his parents in London once during the 4 years, but immediately sent back as the blitz worsened.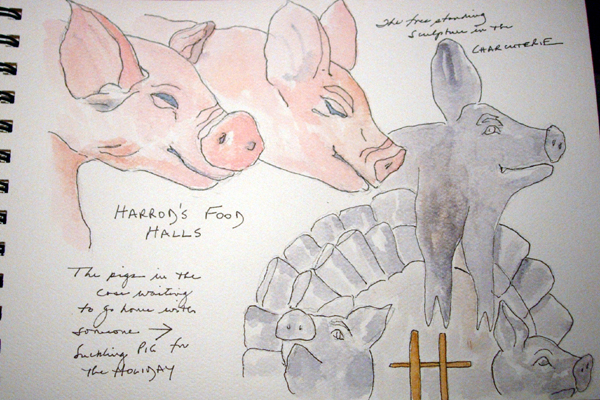 HARROD'S Food Halls have always been one of my favorite places in London. I always feel an enormous urge to buys lots of ingredients and go home to cook a big dinner. We managed to visit the store several times in the last few weeks and each visit ended in the food halls where I bought a few things and took photos of others. Yesterday we bought fresh crab, tiger prawns, and fresh artichokes for New Year's Eve dinner, but I was attracted to the huge charcuterie (Pig) sculpture (silver) and my photo of the poor little pigs from last week (pink) for my daily sketch. I can't imagine how many people buy suckling pigs to make for dinner to have them as a regular item! Today we are going to see the Holbein exhibit at Tate Britain. Can't wait to see his drawings.