Thread vs Paper Supplies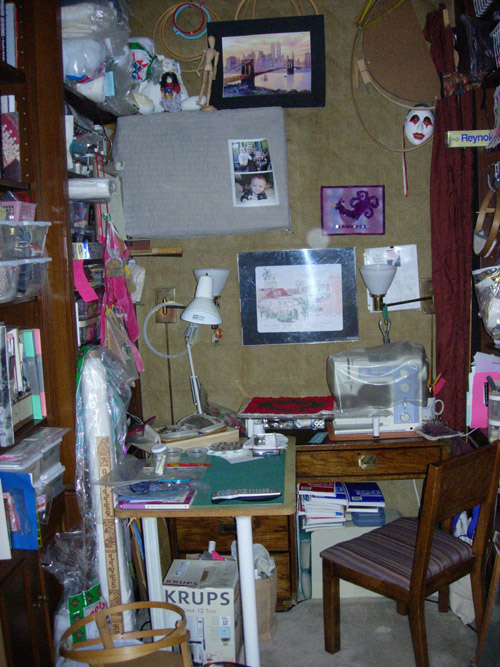 My Fabric Studio: This is the old maid's room in my 1920s New York City apartment. The previous owner made this 7 ft 3 inch by 9 foot 9 inch room into a small library and the lovely cabinets/bookshelves that line both side walls are just visible. It would be hard to catalog all of the fabric, thread, and supplies that fill this small room - there is one ceiling to floor cabinet that is just filled with procion dyes and all of the supplies necessary to paint/dye silk.
Below: EDM Challenge #9 - Controlled Chaos
This is a quick sketch of my fabric studio. I love this space and can lose myself for hours in the midst of all of this fabric and these supplies.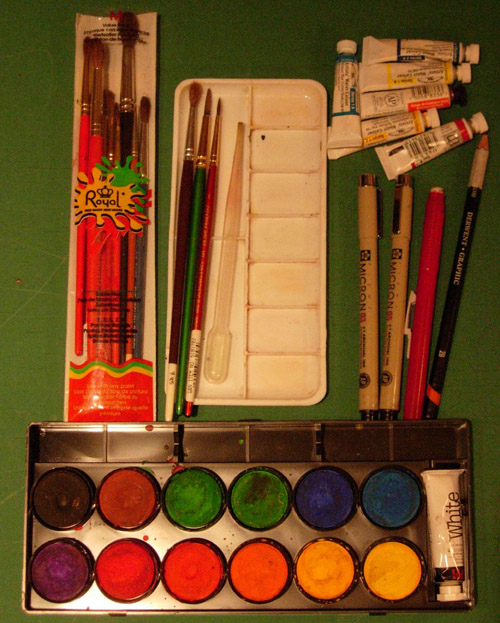 My rudimentary art supplies: French School student grade pan watercolor paints, several 5 ml Winsor Newton primary color tube watercolor paints, assorted brushes, a plastic palette, Pigma micron pens (03 and 05), a Derwent graphic 2B pencil, and a Bic click eraser. I don't have room to expand so I'll have to continue to work in small format journal sketchbooks!